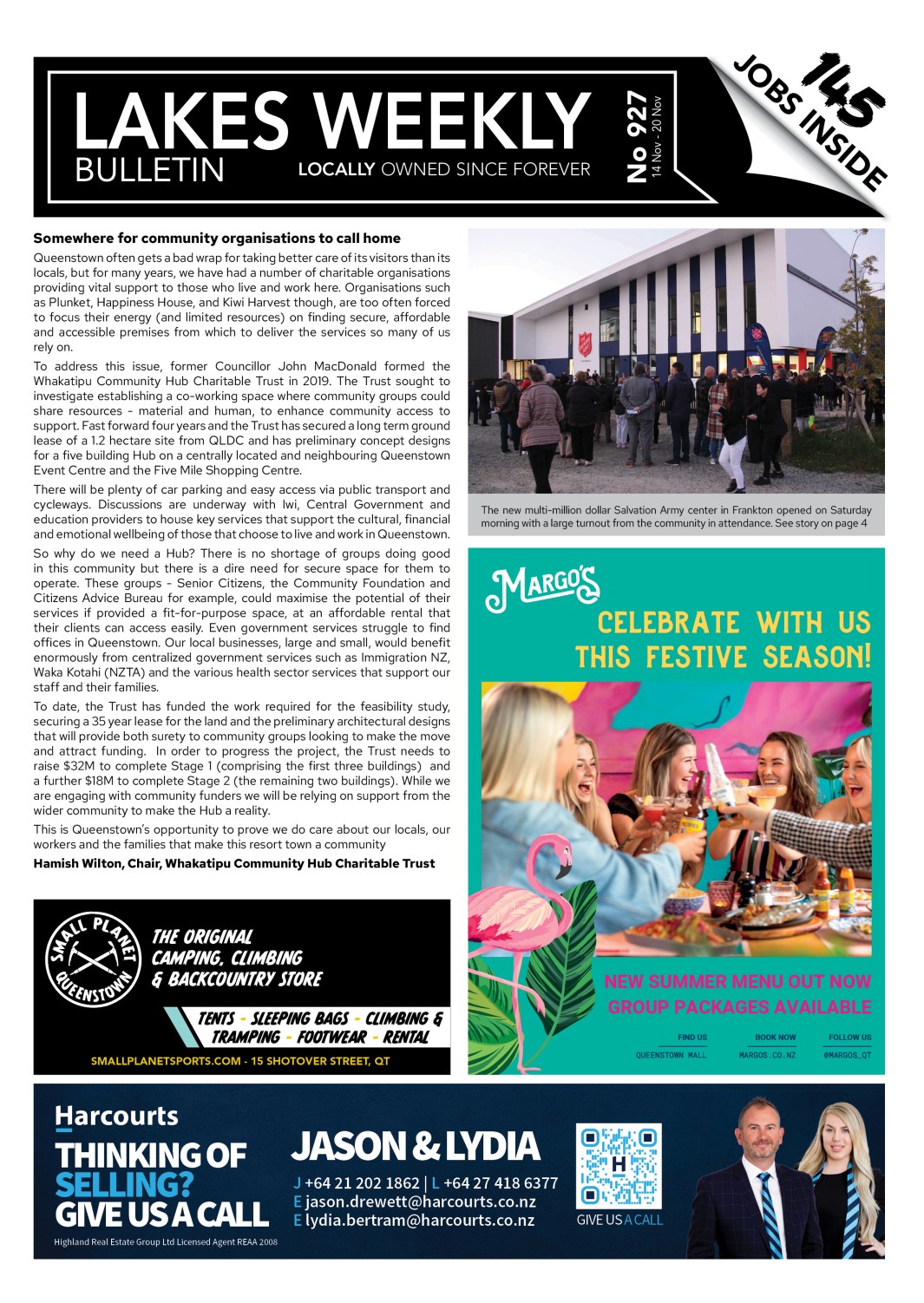 Somewhere for community organisations to call home
by Hamish Wilton, Chair, Whakatipu Community Hub Charitable Trust

Queenstown often gets a bad wrap for taking better care of its visitors than its locals, but for many years, we have had a number of charitable organisations providing vital support to those who live and work here. Organisations such as Plunket, Happiness House, and Kiwi Harvest though, are too often forced to focus their energy (and limited resources) on finding secure, affordable and accessible premises from which to deliver the services so many of us rely on.

To address this issue, former Councillor John MacDonald formed the Whakatipu Community Hub Charitable Trust in 2019. The Trust sought to investigate establishing a co-working space where community groups could share resources - material and human, to enhance community access to support. Fast forward four years and the Trust has secured a long term ground lease of a 1.2 hectare site from QLDC and has preliminary concept designs for a five building Hub on a centrally located and neighbouring Queenstown Event Centre and the Five Mile Shopping Centre.

There will be plenty of car parking and easy access via public transport and cycleways. Discussions are underway with Iwi, Central Government and education providers to house key services that support the cultural, financial and emotional wellbeing of those that choose to live and work in Queenstown.

So why do we need a Hub? There is no shortage of groups doing good in this community but there is a dire need for secure space for them to operate. These groups - Senior Citizens, the Community Foundation and Citizens Advice Bureau for example, could maximise the potential of their services if provided a fit-for-purpose space, at an affordable rental that their clients can access easily. Even government services struggle to find offices in Queenstown. Our local businesses, large and small, would benefit enormously from centralized government services such as Immigration NZ, Waka Kotahi (NZTA) and the various health sector services that support our staff and their families.

To date, the Trust has funded the work required for the feasibility study, securing a 35 year lease for the land and the preliminary architectural designs that will provide both surety to community groups looking to make the move and attract funding. In order to progress the project, the Trust needs to raise $32M to complete Stage 1 (comprising the first three buildings) and a further $18M to complete Stage 2 (the remaining two buildings). While we are engaging with community funders we will be relying on support from the wider community to make the Hub a reality.

This is Queenstown's opportunity to prove we do care about our locals, our workers and the families that make this resort town a community.
Open this issue
WHY ADVERTISE YOUR BUSINESS WITH US
The Lakes Weekly is part of Queenstown Media Group (QMG).
QMG is Queenstown's leading locally owned and operated media company with print, online and social platforms that engage locals with what they care about — everything local!
The Lakes Weekly delivers stories and news that connects with local so they come away each week better connected to their community. Advertising sits within this curated content environment, and it's a trusted relationship between readers and the Lakes Weekly. Advertisers benefit from the association with the LWB brand values.
The Lakes Weekly is hand delivered to every business in Queenstown, Arrowtown, Frankton, Five Mile Remarkables Park and Glenda Drive on Tuesday. Copies are available in service stations, libraries and drop boxes throughout the region and every supermarket throughout the Queenstown basin and Wanaka.
Online the issue is available Monday afternoon, on lwb.co.nz and the Qtn App.
3,500
Printed copies
each week
13,250
Estimated weekly
readership