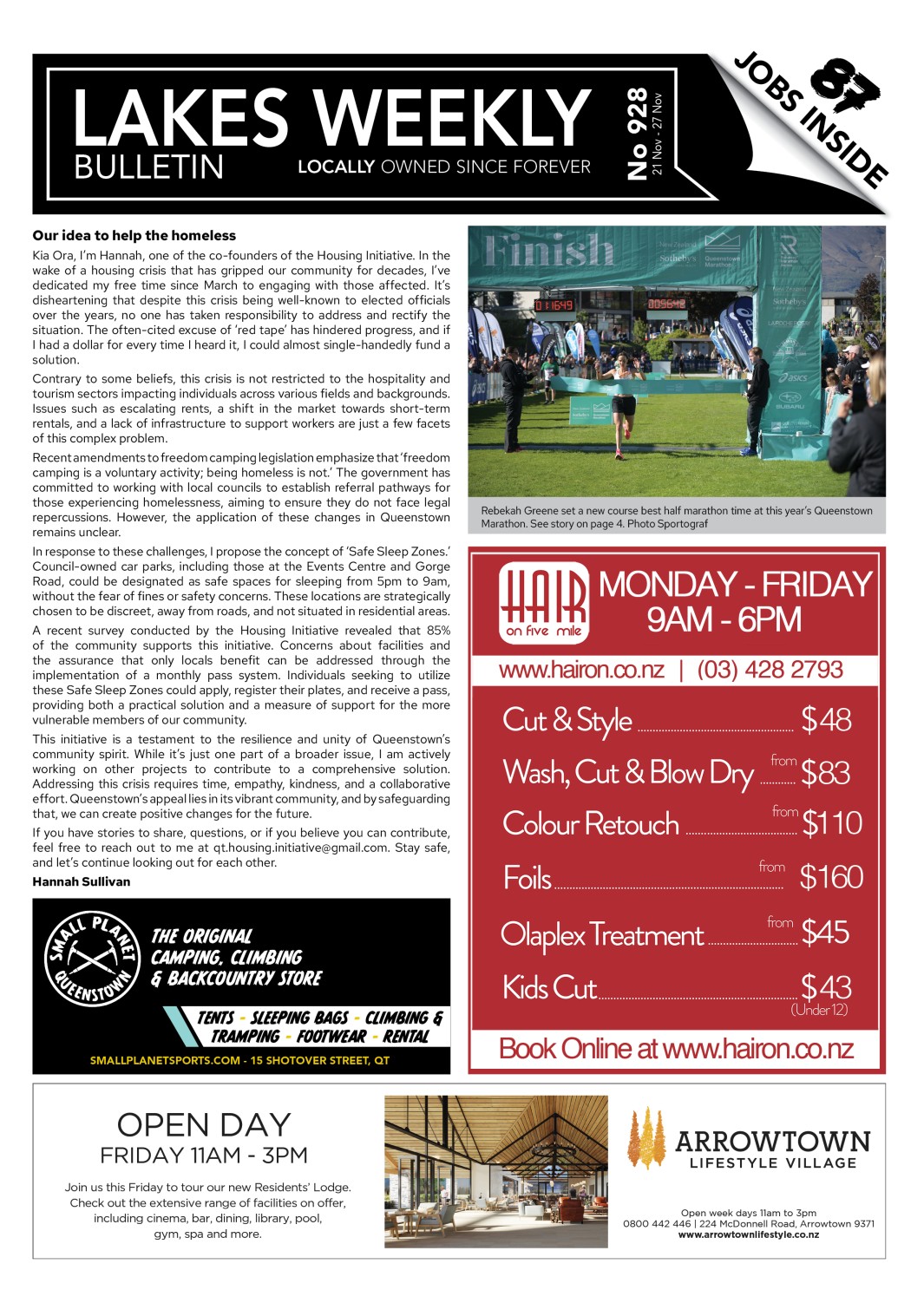 Our idea to help the homeless
by Hannah Sullivan

Kia Ora, I'm Hannah, one of the co-founders of the Housing Initiative. In the wake of a housing crisis that has gripped our community for decades, I've dedicated my free time since March to engaging with those affected. It's disheartening that despite this crisis being well-known to elected officials over the years, no one has taken responsibility to address and rectify the situation. The often-cited excuse of 'red tape' has hindered progress, and if I had a dollar for every time I heard it, I could almost single-handedly fund a solution.

Contrary to some beliefs, this crisis is not restricted to the hospitality and tourism sectors impacting individuals across various fields and backgrounds. Issues such as escalating rents, a shift in the market towards short-term rentals, and a lack of infrastructure to support workers are just a few facets of this complex problem.

Recent amendments to freedom camping legislation emphasize that 'freedom camping is a voluntary activity; being homeless is not.' The government has committed to working with local councils to establish referral pathways for those experiencing homelessness, aiming to ensure they do not face legal repercussions. However, the application of these changes in Queenstown remains unclear.

In response to these challenges, I propose the concept of 'Safe Sleep Zones.' Council-owned car parks, including those at the Events Centre and Gorge Road, could be designated as safe spaces for sleeping from 5pm to 9am, without the fear of fines or safety concerns. These locations are strategically chosen to be discreet, away from roads, and not situated in residential areas.

A recent survey conducted by the Housing Initiative revealed that 85% of the community supports this initiative. Concerns about facilities and the assurance that only locals benefit can be addressed through the implementation of a monthly pass system. Individuals seeking to utilize these Safe Sleep Zones could apply, register their plates, and receive a pass, providing both a practical solution and a measure of support for the more vulnerable members of our community.

This initiative is a testament to the resilience and unity of Queenstown's community spirit. While it's just one part of a broader issue, I am actively working on other projects to contribute to a comprehensive solution. Addressing this crisis requires time, empathy, kindness, and a collaborative effort. Queenstown's appeal lies in its vibrant community, and by safeguarding that, we can create positive changes for the future.

If you have stories to share, questions, or if you believe you can contribute, feel free to reach out to me at qt.housing.initiative@gmail.com. Stay safe, and let's continue looking out for each other.
Open this issue
WHY ADVERTISE YOUR BUSINESS WITH US
The Lakes Weekly is part of Queenstown Media Group (QMG).
QMG is Queenstown's leading locally owned and operated media company with print, online and social platforms that engage locals with what they care about — everything local!
The Lakes Weekly delivers stories and news that connects with local so they come away each week better connected to their community. Advertising sits within this curated content environment, and it's a trusted relationship between readers and the Lakes Weekly. Advertisers benefit from the association with the LWB brand values.
The Lakes Weekly is hand delivered to every business in Queenstown, Arrowtown, Frankton, Five Mile Remarkables Park and Glenda Drive on Tuesday. Copies are available in service stations, libraries and drop boxes throughout the region and every supermarket throughout the Queenstown basin and Wanaka.
Online the issue is available Monday afternoon, on lwb.co.nz and the Qtn App.
3,500
Printed copies
each week
13,250
Estimated weekly
readership