Queenstown Marathon returns in style
4 minutes read
Posted 19 November, 2023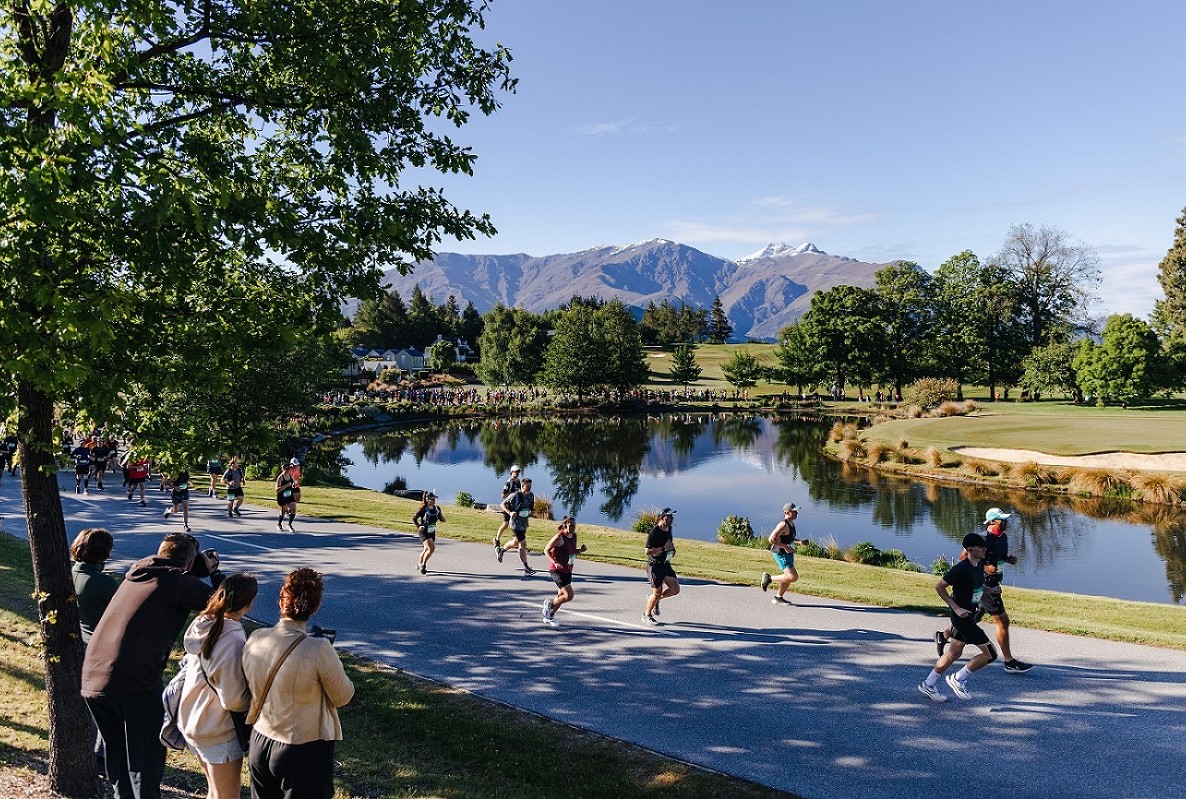 Thousands of runners and walkers from across New Zealand and around the world took part in yesterday's New Zealand Sotheby's International Realty Queenstown Marathon.
The world's most beautiful marathon lived up to its reputation, with blue skies and stunning trails highlighting the ninth edition of the popular event.
Athletes took part in one of four distances, with the New Zealand Sotheby's International Realty Marathon, La Roche Posay Half Marathon, Havana Coffee 10km and Queenstown Airport Kids Run all on offer. The courses took in the best highlights of the Queenstown Lakes District, set to the backdrop of the imperious Crown and Remarkables mountain ranges.
The completion of the Queenstown Half Marathon marked an incredible milestone in 27-year-old Gendi Roberts' recovery from multiple life-saving surgeries.
At just eight years old Gendi, from Nelson, was diagnosed with Ehlers-Danlos Syndrome (EDS), a group of connective tissue disorders. As she got older her symptoms worsened and she was told she'd need life-saving surgery – but to complicate matters further the surgery required wasn't possible in New Zealand and very expensive.
Her friends crowdfunded more than $25,000 so she could travel to Baltimore, US, for life-saving spine and brain surgery which took place in January 2017. The recovery was painful, with Gendi having to relearn to walk, talk and even swallow.
It's only been over the past two years that Gendi has felt like her life has returned to somewhat normal, though she suffers ongoing issues related to her condition. To prove to herself that her body is still capable of doing hard things despite everything it's been through, Gendi decided to sign up for the Queenstown Half Marathon – having never been for a run before in her life.
Gendi completed the race in 2:18:33.
"That was so much fun, it wasn't fast but so much fun," said Gendi. "I could cry now I've finished. It was awesome, it was such a fun event. I did it, and I didn't walk. The body is sore but we're in one piece so I'm pretty stoked. I can't believe I've done it, I can do hard things and that's pretty cool. But right now I'm looking forward to a beer."
Also taking part in the half marathon was local firefighter Jamie Harris who ran the half marathon in his full firefighting kit, including his cylinder weighing about 17kg, to raise money for Leukaemia & Blood Cancer Foundation.
Jamie completed the 21.1km effort in 3:08:06.
"It's always fun in Queenstown," said Jamie. "I'm a little bit drained, I haven't been 100% all week but I ploughed through it, got to the end so yeah it was good. The fine weather probably didn't help running like this.
"I've been a fundraising firefighter for years and now my sister has just been diagnosed with a rare blood cancer so I'm just creating a bit more awareness that it doesn't matter who you are, cancer doesn't discriminate. Now that my family are a bit closer to it it's a bit more real, so I thought I'd put on a kit and go for a wee jog," he said.
The Queenstown Marathon saw thousands of athletes take part, with nearly 90% of those participating travelling to the Queenstown Lakes District from outside of the region. Of those, 17% were international participants.
Joh Switzer and Tony Reason travelled from Australia's Sunshine Coast to take part in Queenstown Marathon along with 11 others from their run club, the Sunny Coast Dark Runners.
"There's a club of us, about 11 of us came over for this event and some ran the marathon, some the half and some the 10km," said Tony. "We did the half and that was spectacular, beautiful scenery, and so many nice people out there."
"A friend of ours was doing her last marathon so we just put a crew together from our club and came out because running together with friends is much better," Joh added. "It was just great running with everyone, such a good vibe out there. Wonderful scenery, the mountains, the river, oh my god so lovely."
With so many athletes and their supporters descending on the Queenstown Lakes District for this year's event, the region is expected to benefit from an injection of over $20 million into the local economy.
The 2024 New Zealand Sotheby's International Realty Queenstown Marathon returns on Saturday, 16 November 2024, with online entries for next year's event opening at 9am today morning. Those still in town tomorrow can enter in person at the Queenstown Memorial Centre between 9-11am.
For more information visit https://queenstown-marathon.co.nz/