New Queenstown Community Hub Designs Unveiled
3 minutes read
Posted 7 November, 2023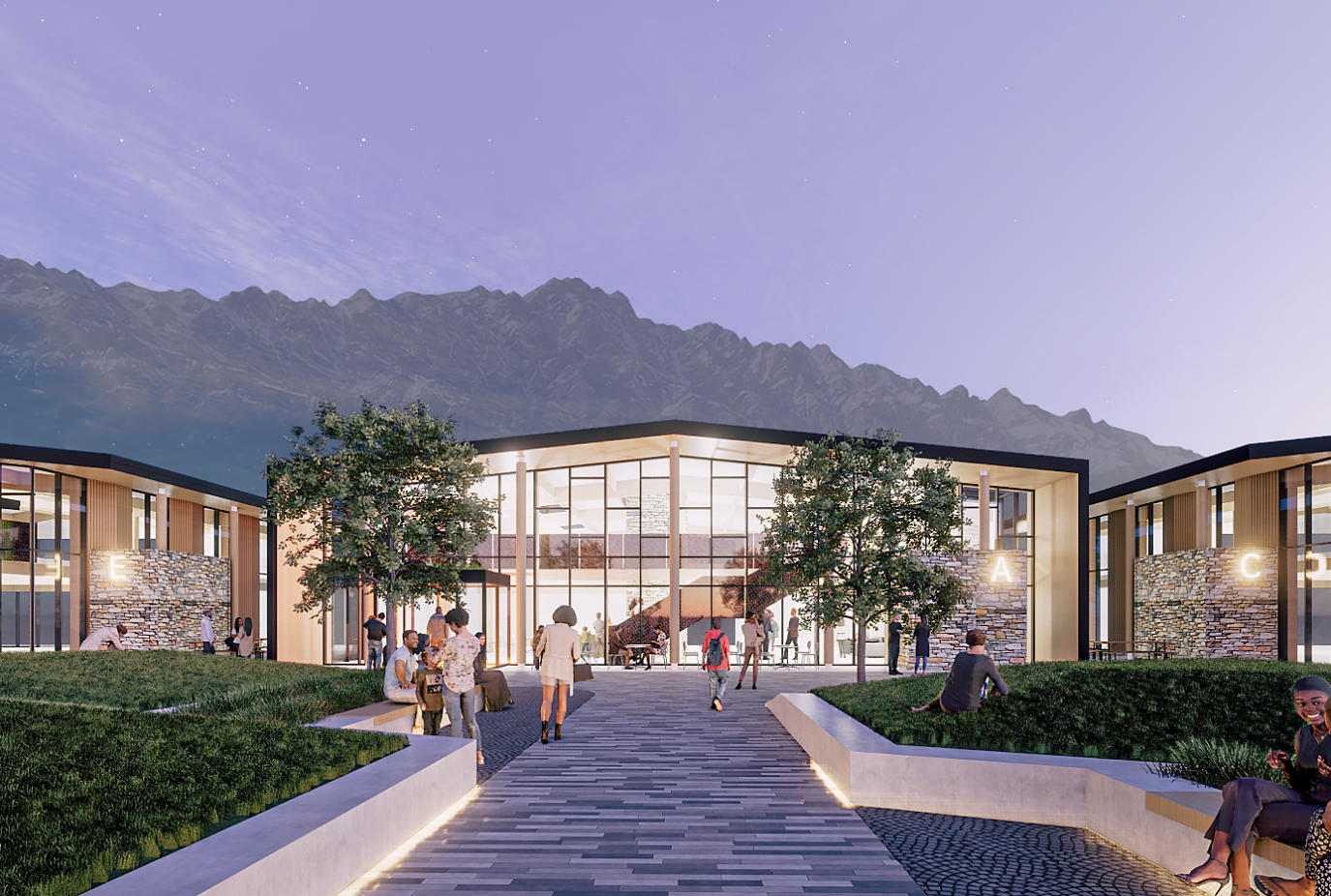 Architectural concept designs for the proposed two stage, $50m Whakatipu Community Hub to be based in Five Mile, Frankton were revealed to prospective stakeholders at a progress update last week (November 2).
The Whakatipu Community Hub Charitable Trust received expressions of interest from 17 potential occupiers, who've been involved in the design process to ensure the proposed five-building complex is fit for their purposes.
There's been big demand from local social service sector and charitable organisations, and the Trust hopes some government agencies may take up residency space in the first, $32m three-building stage.
Once completed the five separate buildings will each have a floor area of 900sqm, subject to the Trust raising the necessary funds. The first three buildings will offer 2700sqm of office space, available at a considerably subsidised rate.
Project administrator Sharon Salmons says some of the larger organisations need space for up to 30 staff, so it's been vital that interested parties are part of the design stages.
Last week's workshop was their first opportunity to see the proposed designs. Among those who've expressed interest are Plunket, Happiness House, Baskets of Blessing, Kiwi Harvest, CAB, the Cancer Society, Age Concern, Alzheimers Otago, Volunteer South, The Kiwi Kit Community Trust and Wakatipu Senior Citizens. Wakatipu Community Foundation, Impact 100 and the Queenstown Lakes District Council Welcoming Communities team are also interested.
"We're now engaged with Government Property Group to ascertain if there's any appetite for government depts to take space in the complex," says Trust chair Hamish Wilton.
Salmons has done extensive research, visiting other similar projects around the country such as The Kollective in Tauranga, The Lofts in Christchurch, picking out the best of their ideas.
The designs include a common community space available to local clubs and groups for meetings or events, spacious outdoor gardens and playgrounds. "We're keen to provide lots of open-air spaces where people can sit and use the internet, like an outdoor library," says Salmons. "It's really important that we future proof this in the design so that it's suitable for generations to come."
"It will be a big game changer for Queenstown, something that's been needed in this community for a long time," she says. "The community hubs I've seen, including the successful one in Wanaka, have attracted more community organisations than expected. There's been a lot of cross pollination of ideas and resources – agencies working together and connecting. That's the idea of a hub," Salmons says. It's also more cost effective to share.
It's hoped showers and E-bike charging stations can be incorporated to encourage active transport and pedestrian accessibility.
The Trust has also been exploring options to provide a creative 'Maker Space' within the hub. "These are popular around the world and offer a community space where people can do woodwork, metalwork and other craft, use 3D laser printers and the likes, and learn and build,"
The next phase is attracting funding, Wilton goes on to say. "We're well engaged with core funders like Central Lakes Trust and Community Trust South. We're also ascertaining whether any government funding is available." The Trust is working with several potential occupiers who may be able to make a capital contribution. While Queenstown Lakes District Council doesn't have funds it can contribute but has provided the 1.2ha site behind Countdown for a 35-year peppercorn lease.
"We will also be asking the wider community to support this much needed facility that will provide a support system for those who live and work in our area."
"The best-case scenario would see work starting by September next year, building through 2025 and completing stage one in 2026," Wilton says. "However, this is fully reliant on securing funding to complete the project."