New Cromwell subdivision releases first stage of lifestyle sections
2 minutes read
Posted 20 November, 2023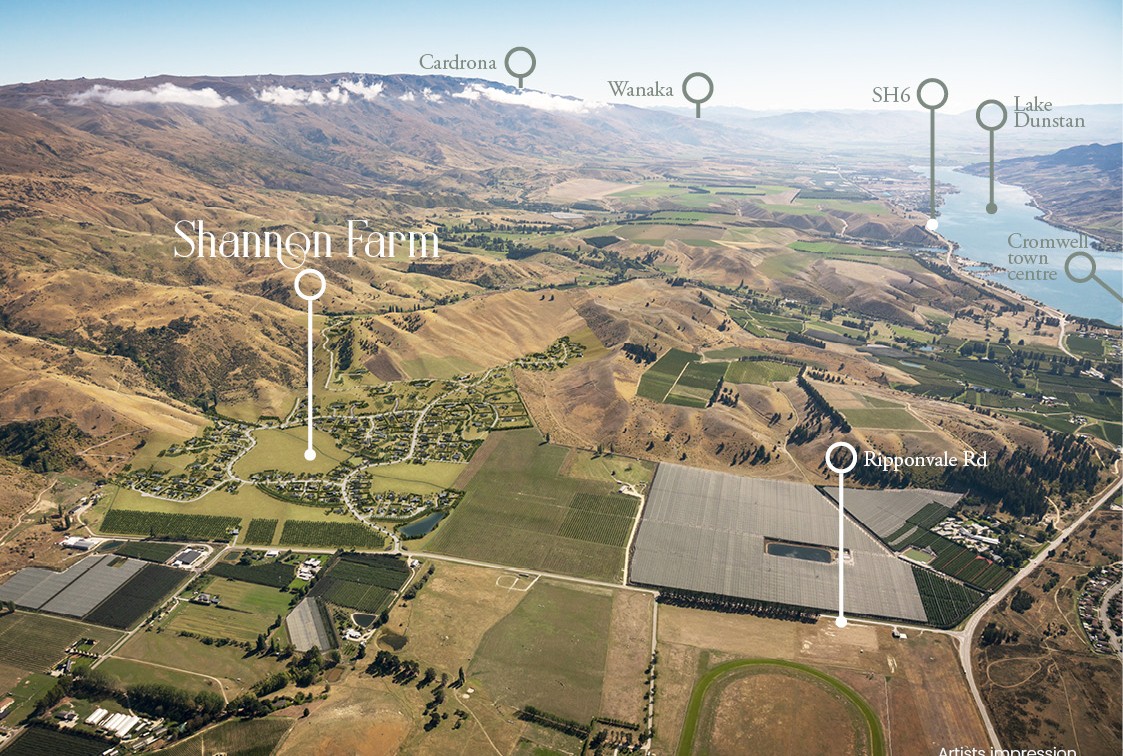 The development of Cromwell's newest subdivision has moved into its next phase with sections going on the market.
Shannon Farm – a 142ha rural lifestyle subdivision in Cromwell – is releasing the first stage of sections to the public today, Monday, 20 November, with sections priced from $649,000 and ranging in size from 1500sqm to 3ha.
Early expressions of interest via the Shannon Farm website have already attracted prospective buyers, with 30 sections sold or under contract in just four weeks.
Infinity Investment Group chief executive Paul Croft says the response so far has been overwhelming as spacious lifestyle sections are a new offer to the growing Cromwell region.
"We noticed a gap in the market and the industry showed that there was an opportunity for larger sections in Cromwell," he says. "Rather than maximise the land by squeezing in as many sections as possible, we wanted to be thoughtful in our design of Shannon Farm and develop the subdivision in a way that incorporates and reflects the natural surroundings."
Located in a prime position on the edge of Cromwell, the spacious subdivision set in a rural landscape will consist of five neighbourhoods – Cherry Grove, Village Green, Orchard View, Double Rock and Stella Ridge – once completed. Nestled in the foothills of the Pisa Range, the 160 sections in Shannon Farm will be sold in staged releases and offer panoramic rural alpine views.
Shannon Farm sales manager Patrick Waser says the uniqueness of Shannon Farm is what makes it so appealing to potential buyers.
"These large sections give buyers the chance to build the lifestyle they want," he says. "With Cromwell close by, homeowners can enjoy a remote lifestyle without compromising on the ease of access to local amenities and activities such as world-class vineyards, ski fields, Highlands Motorsport Park and biking trails.
"We expect the construction for the sections in Cherry Grove to begin from June/July 2024 and anticipate these will be completed by July 2025," Waser adds.
A newly consented mountain bike park which includes world-class mountain bike trails, will be located to the west of Shannon Farm and will open in due course.
Cromwell Mountain Bike club president Alex Bartrum says Shannon Farm is a prime location for avid mountain bikers.
"Shannon Farm Bike Park is on its way to becoming a hotspot for bikers and walkers alike," Bartrum says. "This recreation area will provide for multiple activities and offers stunning views of the local landscape. You'll be living at its doorstep and will also be a short ride/walk into town."
Prospective buyers can register their interest via the Shannon Farm website or contact the Shannon Farm sales team directly.
Artist's impression of a home in the Cherry Grove neighbourhood
Aerial artwork of Shannon Farm