Neill Simpson - Leafing us a legacy
4 minutes read
Posted 14 August, 2023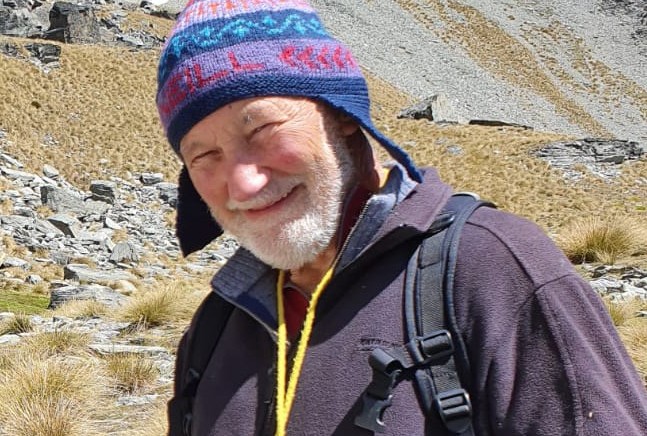 He's one of the country's foremost botanists and ecologists, his vast knowledge still drawn on nationally as a conservation consultant, and still roaming the backcountry, despite turning 90 this month (August 21).

However, Neill Simpson doesn't sport a long list of fancy post-nominal letters after his botany degree, gained after years of pursuing his passion for plants. He's won numerous awards though.

Perhaps those early seeds were planted as the grandson of an Otaki market flower grower, and, on the other side, a produce grower.

"I remember collecting grasses at primary school." However, sport was his focus then, rugby, and representative badminton and rowing for Whanganui, second in the nationals once.

"Dad was a rugby administrator, coach and church elder, so we had a Christian upbringing." The eldest of six – five sisters, Neill entered the family business. That closed as supermarkets took over and the outdoors soon beckoned.

A keen skier, tramper, and Whanganui SAR volunteer, Neill founded that region's first Mountain Safety Council branch.

Three-week tramps were the norm with no Personal Locator Beacons or cellphones. Neill and mates had to reconnect a friend's dislocated shoulder once. "It was three days to tramp out and we had no way to raise the alarm."

Humour was a must – a friend once serving Neill's hungry party buttered dog biscuits on arrival at a Tongariro hut, copping a drenching in return. Struggling to climb and camp on Ruapehu's summit once, Neill found a large rock in his pack. "I'd put one in another pack thinking mine was safe."

At 30, he scored his dream job with the Lands and Survey Department as a Tongariro National Park ranger in Turangi.

In 1968 he married fellow outdoors lover, "vivacious and outgoing" Barb, wife of 55 years – "the best thing I ever did". They moved with their three young sons to Springs Junction in the 1970s where Neill was lone ranger for the Lewis Pass Scenic, now National Reserve.

With only several hundred valley residents you had to watch what you said. "I was removed from the school committee for backing a schoolteacher who wanted to run the school bus in the opposite direction to spend more time at school," he grins. "Locals didn't like change."

A calm, quietly spoken diplomat, Neill had to negotiate tensions between Lands and Survey and the NZ Forest Service over Maruia Forest logging plans in the late 70s, environmental protests just emerging.

In 1981 he was moved to Queenstown to oversee environmental protection during the new Remarkables Ski Area construction. "I'd been here for ski trips in the 1960s with just a rope tow at Coronet. I was awe struck by this area's beauty. Every day is different if you take the time to look around."

Skiing and sailing club activities were always on the Simpson radar. "Bill van der Voorden taught us dads how to build Optimists for the kids."

Unfortunately, a life in the outdoors has had its challenges and tragedies. They've lost some great trailblazing tramping friends in the backcountry, narrowly escaping themselves.

Neill's helped build some of the Wakatipu's most popular walking tracks, enlisting paid help from dozens of unemployed through the then government Project Employment Scheme.

He led free summer holiday programmes of up to 20 people into the backcountry, often camping out under a bivvy. "People came from all over the country." One not-so-confident bus driver into Skippers clipped a wheel over the side of the sheer drop, causing mutiny when Glenorchy ranger Brian Ahern called 'all aboard' for the return trip. "Only a few brave souls hopped on. We had to ferry the rest out in Land Rovers," grins Neill.

Appointed DOC District Conservator in 1987 when the government departments merged, Neill oversaw 49 staff and a huge region. That position was disbanded, and he became Lakes District Field Centre Manager, before revelling in a new regional botanist position in the 1990s, overseeing all of Otago.

He's been awarded the NZ Botanical Society's Allan Mere Award for meritorious services to botany, a QSM for conservation, and the prestigious Loder Cup, with Barb, for conservation achievements, to name a few. He's also a life member of the Whanganui Tramping Club.

Reforestation with natives has always been dear to his heart. "I'm amazed at what's happening now with people wanting to plant natives. It's fantastic. It's part of NZ's uniqueness – 80 percent of our plants, birds, insects, and lizards aren't found anywhere else."

Leading replanting missions after the "heartbreaking" Pigeon Island fires in 1996 and 2002, with Barb, and founding, and volunteering with, the Whakatipu Reforestation Trust nursery, have kept Neill busy. Not much keeps him indoors, but on those bad weather days when he's not out planting natives, he's rediscovered piano, after taking fresh lessons in his 80s.