Dennis Deavoll - Grandaddy Cool
3 minutes read
Posted 17 July, 2023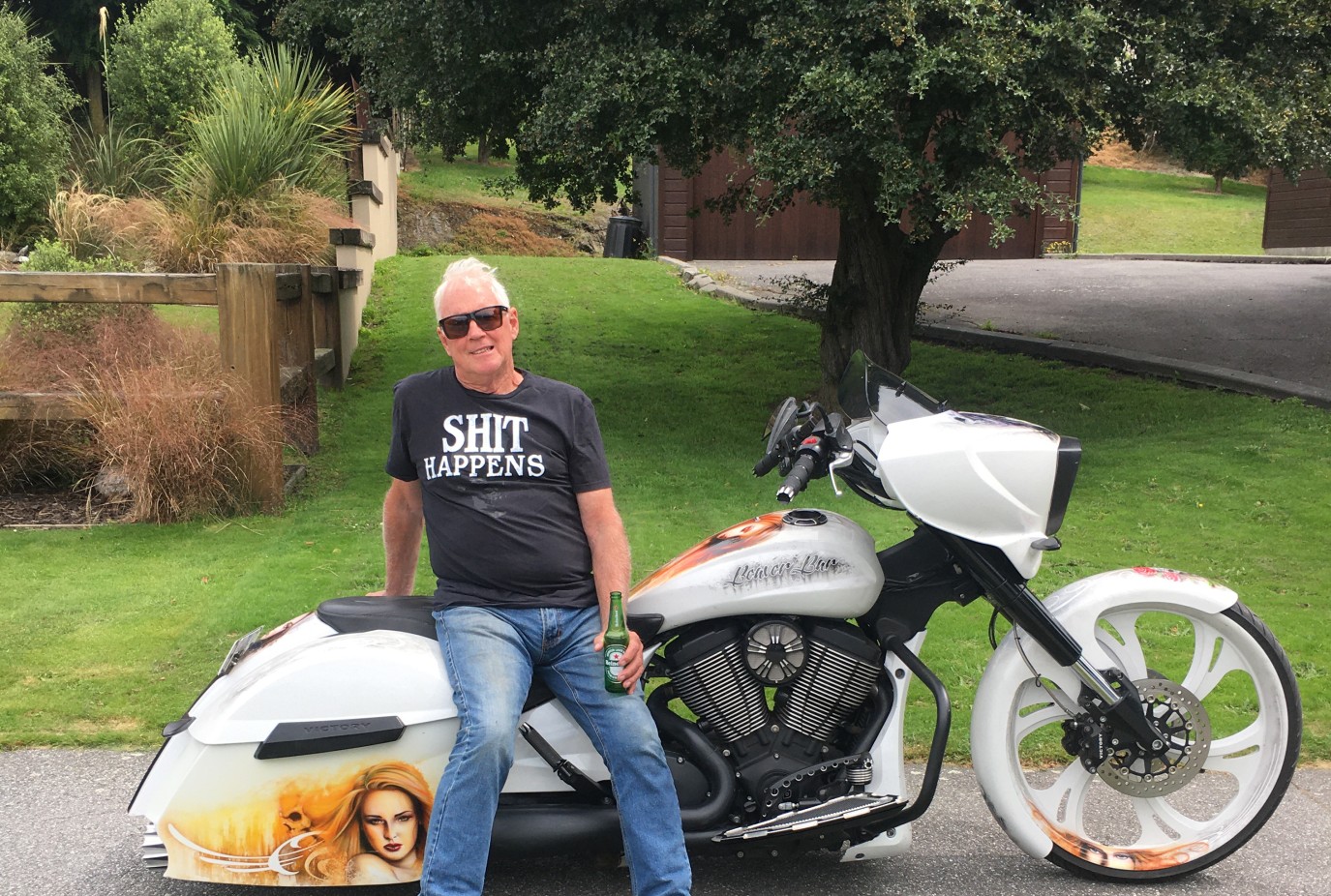 At 76, Dennis Deavoll could still be mistaken for a bit of a bad boy biker, rocking it with the best, but really, he just loves to live life to the full…and a little bit on the edge.

Raised on a surfboard at New Brighton Beach in Christchurch, Dennis went to Art School becoming a commercial artist, then art director and producer for ad agencies. He worked in Perth, launching his own business, 'Help'. "It was in the days when The Beatles song (Help) came out – mid-60s."

Returning to NZ, and a Queenstown 'Learn to ski' trip had him hooked. Dennis raised a few eyebrows rolling up to Eichardt's on his 900 Kawasaki Custom Chopper that he built in Perth. "It was all chrome and bright yellow with a naked lady I'd painted on the tank – the only large bike over 450cc in town for 12 years."

He built a 5-storey stone house at Sunshine Bay, designed by now renowned architect Ian Athfield.

By 1978 local MP Warren Cooper – the town's only signwriter, moved to Wellington and Dennis, with his strong artistic flair, launched Queenstown Signs. "I taught myself how to sign-write – a bigger version of what I'd been doing before, drawing things on paper."

"With a brush and a bunch of young guns about to show the world what adventure tourism was about, I started."

An immensely talented artist, he started out creating signs for whitewater rafting, skydiving and parapente operators, and river surfers. He sign wrote the first Shotover Jet signs, then other jetboats, planes, helicopters, cars, trucks and shops.

A motorcycle trip from LA to Sturgis Motorcycle Rally in South Dakota attracting 480,000 bikes awakened Dennis to event tourism. Back home he and several rider mates started Remarkables Motorcycle Club and the popular annual summer motorcycle rally. "We rented Twelve Mile Delta. Midge Marsden and other top NZ bands came. They were fun times. You didn't get the confrontation you have today. Everyone was happy."

Motorcycle enthusiasts flocked in from around NZ for four years with crowds peaking 3500 until they were no longer allowed access to the DOC site.

Dennis and son Sam were among those who pioneered snowboarding locally in the early 1990s, along with son Cacey.

In 1992 Sam came home and said, 'Dad, I want one of those things in the window of NZShred. It was a new snow toy called a snowboard. They only had three. The manager kept one, Sam and I got the other two, and Henry van Asch had one from the States."

"Coronet Peak lifties said, 'What are you going to do with that?!' It was tough, sore, with no instructors, but we struggled on. We wore sorrels as boots as they hadn't invented snow boots yet." Sam went on to become NZ's first Junior Snowboard champion.
Retirement from signwriting in 2000 was "really boring" so Dennis went on to ride his Harley all over the States.

JD's Motorsickle Tours – named in a nod to motorcycle legend Burt Munro, was born on Dennis's kitchen table and instantly sold out. A month riding cities and locations never imagined and Kiwi motorcycle fans couldn't get enough. Dennis was soon running three trips a year. They stretched from San Francisco to New York around Novia Scotia, Key West up to Quebec, across Canada, and down to the Indianapolis 500 and Washington DC. Dennis at the helm on his Harley trailed by as many as 75 people on anything from 18 to 23 bikes – 10,500 miles over four and a half weeks, partying every night. "You had to have a good liver," he grins. "It was fast and furious the whole time."

Dennis rode more than 500,000 miles all over the USA and Canada, completing 29 tours over 13 years before finishing up in 2017.
In between rides Dennis and Queenstown motorcycle mate Wayne Perkins produced a book on their bike adventures, 'Work Can Wait' – Wayne's words and Dennis's photos.

"You can never have enough fun," says Dennis, so Hot Rods followed, starting with a 1947 Buick Coupe Dennis found north of Area 51 in Nevada. He shipped it home and stripped it down, restoring it into pristine condition and winning numerous awards.

Life's been full of Whangamata Beach Hops, Muscle Car Madness, with a trip to Burning Man in the Nevada Desert a winner. "It's absolutely mad - 85,000 nutters arrive in 24 hours to make a city on a nuclear desert site with mindboggling music, lights and real funky folk."

Dennis still surfs, snowboards, rides motorcycles and drives hot rods, also painting stunning acrylic works.

"We only go round once so why not enjoy it, he says.