Daniel Jones and Hannah Oldroyd repeat success at marathon
5 minutes read
Posted 18 November, 2023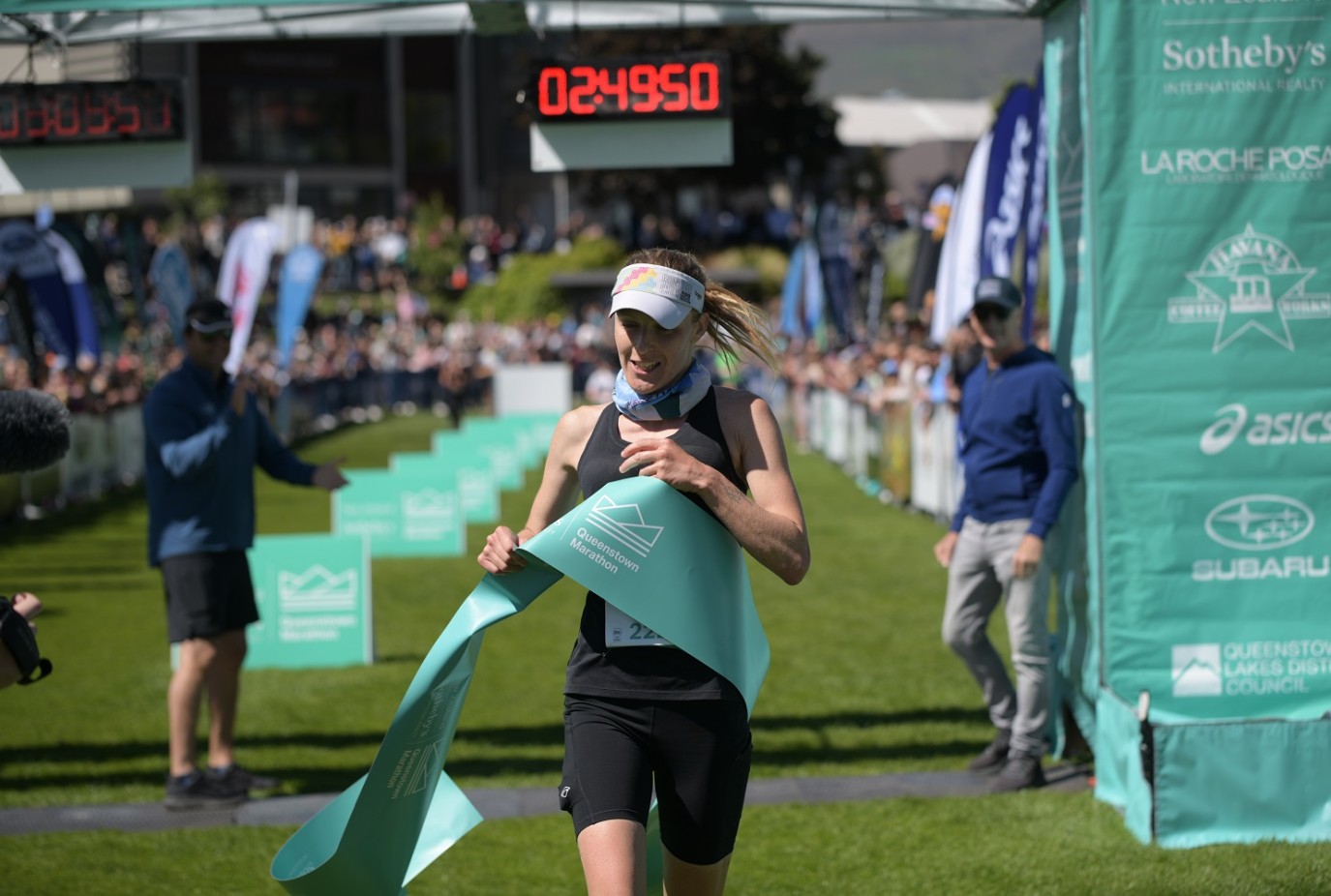 Daniel Jones and Hannah Oldroyd made it back-to-back wins at the 2023 New Zealand Sotheby's International Realty Queenstown Marathon, both defending their titles from last year.
Christchurch-based Brit Oldroyd set a new course best time on the way to her fourth title at the Queenstown Marathon, surpassing the previous best time – also set by Oldroyd in 2018 – by more than two minutes.
Oldroyd took the tape in 2:49:50, nearly eight minutes faster than Alex Barnes in second, with Hannah Maher rounding out the women's podium.
"That was beautiful, very unexpected, I got into a race far too early and I never thought I'd catch the girl in front but I can't complain," said Oldroyd. "It's just great to keep coming back to this race, and the win was very unexpected.
"My strategy is to always go out slowly, but I just didn't look at the watch I just ran so that was probably a stupid thing to do," she said. "The course is amazing, it's absolutely beautiful and the atmosphere was amazing, all the volunteers, and Andy on the lead bike he was just the best."
Another familiar face took the tape in the men's race, with Daniel Jones claiming his third victory at the Queenstown Marathon. Jones completed the 42.2km course in 2:31:13, with Ben Gatting two minutes behind in second, and Lithuanian runner Orestas Rimkus in third.
"I'm feeling pretty stoked, I've been back training pretty well for the last six weeks and I felt just about ready to get in a good marathon today, 2:31 I think it was, not my quickest time here but I was pushed hard by some of those other guys, Ben and another guy earlier on and just managed to pull away in the second half and held my nerve and just managed to stick to it," said Jones.
"There was such a good atmosphere again, running through Queenstown was so good," he said. "It's probably the only place in the country that's a bluebird day today, warm as well. It started out a bit fresh, but it soon warmed up out there."
After a stellar year in 2022, highlighted by multiple domestic trail and road race wins, Jones has spent 2023 making a name for himself on the global ultra trail circuit. He began the year with a win at the 100km race at Tarawera Ultramarathon by UTMB, before finishing fifth at the Western States 100-Mile Endurance Run and recently 12th at the prestigious UTMB that takes place in Chamonix, France.
"I'm ecstatic, it's been a big year for me travelling around. I started by winning Tarawera and then travelling across to the US and Europe for ultra running so to come back and get in an awesome local event and get the third win here is pretty special, it's just a nice way to wrap up the year," he said.
"I've got friends down here, they were awesome – Cam and Laura who were supporting me out at aid stations. I relate this event to Chamonix in France, it's like a smaller adventure town where everyone gets together and has a huge passion for the sport, it's really cool to see. Running back with all the half marathoners they're cheering you on and I actually love that, it's a bit of fun dodging around everyone as well and it adds a different element to it like proper trail running, it's great."
Another course best time was set at today's Queenstown Marathon, this time in the La Roche Posay Half Marathon. Dunedin's Rebekah Greene blitzed the previous best time by nearly three minutes to take out the half marathon title in 1:16:47. The feat is even more impressive considering Greene started around 30 seconds after the starter horn went off as she waited for her partner to pass on her race bib.
"The win means a lot actually, this is such a cool event. I usually run on the track, and we just don't have the spectatorship that you have here, so it was so cool to do it in front of everyone," said Greene. "I feel really good, I don't do half marathons often and it was just such a cool course when you took the time to look up, it was very nice," said Greene.
"I kind of got thrown off a bit at the start just with the late start. I wanted the race to be comfortable but also hard, but I knew it was a long way so if I was hurting at 10k it was going to be a suffer fest, so I just tried to pick off people in front of me and then tried to run with them a bit and they really helped me.
"It was awesome, at the start I felt like it was all downhill but then it was really cool, really scenic. The course is really wide and that was awesome, people cheering all the way," she said. "That last k went by so fast, you had so many people cheering that it distracted you, it was awesome."
Rounding out the women's half marathon podium were Katie Morgan in second and Hannah Berry in third.
Two of New Zealand's leading triathletes made up the men's half marathon podium. Wānaka's Braden Currie took out the title, completing the 21.1km Queenstown course in 1:11:12. Lithuanian runner Paulius Auryla finished over a minute later for second, with Mike Phillips in third.
"I feel good, it was good fun. I didn't plan to turn up and go very hard but once I got running, I felt pretty comfy and carried on," said Currie. "I just threw it out there from the start line, went as hard as I could and then I was probably planning on walking the last 10k, but I didn't feel like I needed to walk, I could keep on running so thought I might as well finish it off.
"It's an easy one for me to get over to from Wānaka, shot over this morning to race and I'll be home by lunch time," he said. "It was awesome, the trails are amazing it's a really nice run and you never really get bored, it's nice winding and twisting. That last 12, 15k there was a lot of people out on course, so it was a cool atmosphere."
2023 QUEENSTOWN MARATHON RESULTS
New Zealand Sotheby's International Realty Marathon
Women
Hannah Oldroyd (Christchurch | GBR) – 2:49:50
Alex Barnes (Byron Bay | AUS) – 2:57:34
Hannah Maher (Christchurch | NZL) – 2:59:05
Men
Daniel Jones (Wellington | NZL) – 2:31:13
Ben Gatting (Auckland | NZL) – 2:33:35
Orestas Rimkus (Christchurch | LTU) – 2:38:06
La Roche Posay Half Marathon
Women
Rebekah Greene (Dunedin | NZL) – 1:16:47
Katie Morgan (Ranfurly | GBR) – 1:22:56
Hannah Berry (Tauranga | NZL) – 1:23:16
Men
Braden Currie (Wanaka | NZL) – 1:11:12
Paulius Auryla (Christchurch | LTU) – 1:12:58
Mike Phillips (Christchurch | NZL) – 1:14:48
For full results from the 2023 New Zealand Sotheby's International Realty Queenstown Marathon visit https://queenstown-marathon.co.nz/