Coalition talks in 'final stages' - National leader Christopher Luxon
5 minutes read
Posted 16 November, 2023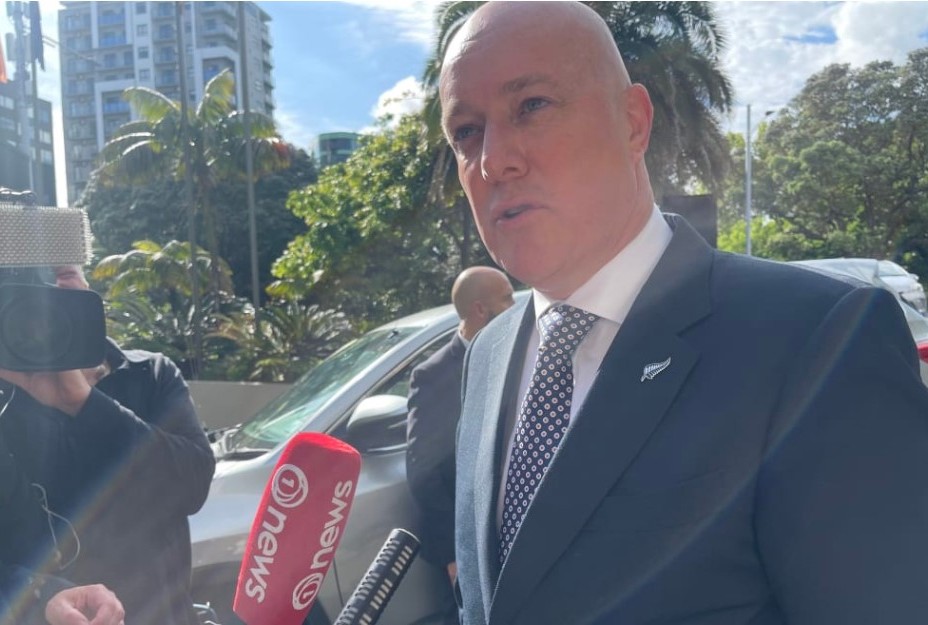 National's leader Christopher Luxon says negotiations to form a government are in the final stages.
The party's core negotiating team is meeting at Auckland's Cordis Hotel this morning - and plans to meet with ACT and New Zealand First separately this afternoon.
It has now been 13 days since the final election count - a day longer than it took in 2017 for parties to strike a deal. Luxon said talks were progressing well, the three leaders having met together, for the first time since the election, on Wednesday.
"We had a very productive day yesterday, it started with the three leaders coming together, Winston Peters and myself and our chiefs of staff met then for most of the morning, David Seymour and I had lunch yesterday talking about a few issues, and then we met with the full ACT team yesterday afternoon - and then Winston Peters and our chiefs, we carried on again at 6 o'clock last night.
"We're going through all the detail of our respective manifestos - we are making great progress, we're in the final stages."
He said the party would be going over some details, and would meet with both of its partner parties later in the day.
"We're pretty close. And for us, it's about just working through the last couple of issues and conversations that we want to have and make sure that we're all fully on board and fully aligned and understand what we're signing up for."
He would not speak about timing for a final agreement but said the three parties were "broadly aligned on our goals". He said it was possible the announcement of a new government could be made from Auckland, but was not certain about that.
Willis refuses to commit to foreign buyers tax
Arriving earlier, National's Finance spokesperson Nicola Willis refused to commit to the party's foreign buyers tax, but said the tax cut package would be "funded responsibly".
She stood by her commitment to deliver tax cuts for New Zealanders but despite being asked several times refused to say it would be funded by a proposal the party campaigned on, a foreign buyers tax on houses sold for more than $2 million.
"Look, our tax cuts will be funded responsibly, there's really good agreement on that and as you will have seen before the election we went to the election with a manifesto that had a tax policy funded through eight different areas - of reprioritisation, of new revenue measures.
"We are discussing every aspect of that. I'm confident that both Chris Luxon and I can stand here today and yet again commit to New Zealanders: you'll be getting your tax reduction."
During the campaign, Willis had said she would resign as Finance Minister if National was unable to deliver the tax cuts they had promised, but would not make the same commitment about other aspects of the tax plan.
The deputy leader said her sense was also that they were in the "final stages".
"Because we are really looking at the detail of each part of the written agreement. Obviously this is a distinctive situation because there are three parties that need to come together for us to have the votes to form a government.
"We are literally going through clause by clause, sentence by sentence, [checking] is everyone happy."
She said they would love to race to a good result, but were equally conscious of the people who wanted them to deliver on their promises - and were focused on the best result possible.
"Don't you worry, every morning my family say 'mum, are you going to announce the government today?' And I've had many an Uber driver who has said the same thing."
Bishop faces morning of complications
The party's third-ranked candidate Chris Bishop arrived by electric scooter. He posted about his adventures that morning, his attempts to get to the location stymied by a series of mishaps.
"Debacle of a morning so far. Woke up and couldn't find a cab," he wrote.
"Decided to walk to nearby cafe and get a coffee while waiting for uber. Couldn't find a cafe. Eventually got to Sky City. No cabs on rank. Nearest Uber was 10 mins away and was now running late. Decided to get a scooter. For some reason I thought I could have a satchel across me, phone to work out where I was going, hold coffee and also drive the scooter. This didn't go well. Fell off scooter on Wellesley St. Coffee everywhere, mainly down my front. Ditched coffee. All was well until scooter ran out of battery. Found new scooter then it struggled to get up the hill. Made it in the end. Late."
Luxon disputes media reports
Luxon disputed some media reporting of the coalition talks, saying he had not been expecting to meet with both the other leaders in Wellington earlier in the week.
"That was not my expectation on Monday, we were there to process with our team."
It was Tuesday the two leaders flew to Wellington, absent Peters. Luxon that day told 1News - when asked if the trio would get in the same room that day - "that's our intention". ACT leader David Seymour had arrived in Wellington saying a meeting between the three that day was "very possible".
It was not a case of miscommunication, and the suggestion Peters had stayed in Auckland to teach the others a lesson was "absolute rubbish", Luxon said on Thursday morning.
"I wouldn't overread too much into the drama," Luxon said. "We were planning to process with our team, we had a series of team meetings and that was with the ACT team, that was our focus down there and then Winston Peters and I were talking, we were having several conversations and were talking about documents in particular between the two of us. And so that was what that was about."
He again suggested the negotiations were being done differently.
"I wouldn't read everything you read in the media to be honest," Luxon said. "I appreciate it's a difficult time for the media as well because we are doing it differently, which is that we are doing it in conversation with the respective party leaders. Some of the reports I've seen over the course of the week are not quite, ah, as they are.
"Well just in terms of the approach. I'm not doing it through the media, I've talked, we've been very clear about what we're wanting to talk about. We deal with the leaders in order to build good faith and good will."