Alison Price - Music Mama – 20 years at the helm
3 minutes read
Posted 9 October, 2023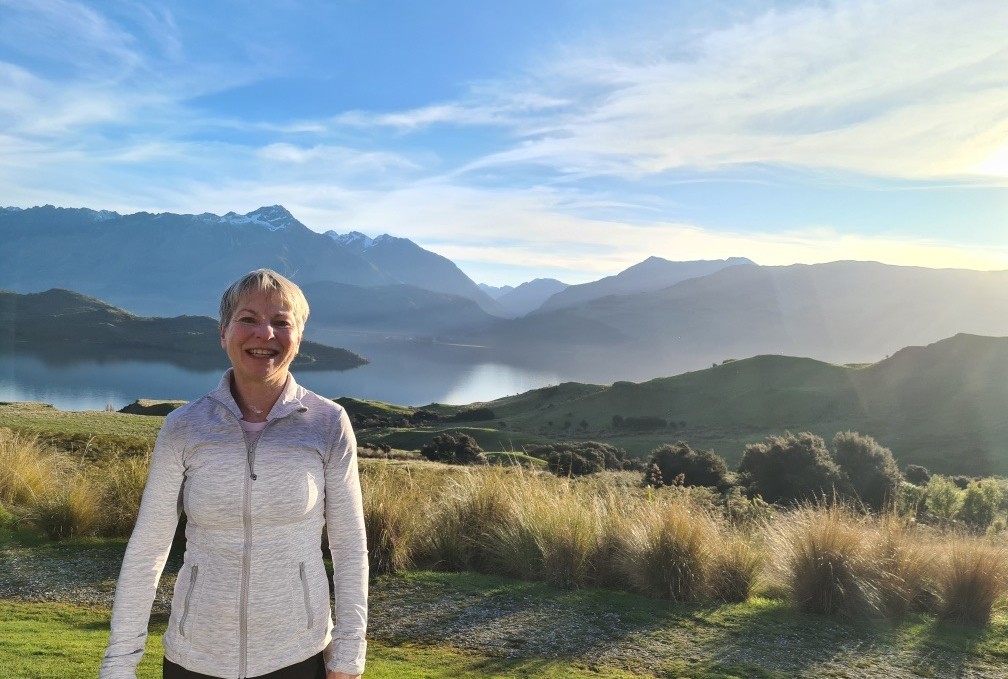 There's been many a high note in Alison Price's 30-year-plus high school music teaching role, and while some of her past Wakatipu High School students may now have their names in lights, the little victories are the most memorable.

Raised in Hawkes Bay where her dad was an accountant, her mum's health meant Alison enjoyed fun times with her rural godparents further north.

Piano lessons began at age four, followed by swimming, tennis, and dance. Despite the music in her, Alison confesses to being "bottom of the dance class". Piano advanced to the pipe organ at boarding school, where she reluctantly admits to being head prefect.

"We were pretty under the thumb. The worst thing we ever did was steal grapefruit from the school tree in my final year, chased by the matron." Younger years, however, got into the Communion wine and midnight swims.

It was 'expected' that young people went to uni, so after completing a double degree in music and arts at Canterbury University, Alison needed income so trained as a teacher.

Pukekohe High School was her first job – a very different experience due to the multi-cultural community.

Alison spent 10 years there teaching music, history, and social sciences, also representing New Zealand internationally in Australia, Europe and South Africa at fencing. "We were definitely no match for those top teams."

She completed a Diploma in Human Resources in the 1990s, but stuck with teaching, which was a lot more relaxed then. "Fridays after school we'd have fish and chips and a few beers until 9pm."

Parents would arrive at school camps and disappear with their beer and wine into the tents with the teachers. A new principal put paid to that. "My friend was married to an Italian and used to a wine with dinner very night, so we resorted to hiding it in an olive oil bottle in the kitchen," she grins.

Once she smelt the strong smell of weed wafting about the school. "I thought, the nerve, not even pretending to be discreet." Her investigations revealed police were having a burn off down the road. A staffroom telescope also detected any playground cigarette smokers.

Alison then spent a year teaching at Garden International School in Malaysia before she and husband Rod moved to Queenstown in the early 2000s, marrying several years later. Here she began 20 years as music teacher, then department head, at Wakatipu High School. "The music department was one little classroom with three tiny rooms, one a storeroom." A search for the instruments unearthed one violin with no strings, a few saxophones and guitars. "I thought, so we won't be having an orchestra, but maybe a jazz band."

"Ned Webster was teaching drums in the disabled toilet – the only space big enough." Gary Kernahan taught guitar and Nigel Hirst saxophone. Even that was a challenge. Principal Kevin Orlowski was doing his best to attract funding, but Alison cleared gear out of the cleaning cupboard on occasion, directing her saxophone students there to practise. "I'd send my recorder lesson kids to play outside the senior management window to make my point there was no space," she says.

She was a one-woman band until 2014, but it was, and still is, incredibly rewarding, teaching talented musicians and performers like Matt Doyle, Thomas Brinsley, Tom Maxwell, brother Sam, and James Boult, to name a few. "That golden section of kids set us up. We had some iconic musicals, a jazz and rock band."

From the small beginnings of a junior jazz band placing third, to runner-up in National Rockquest two consecutive years and students achieving at a high level in songwriting and jazz competitions, plus the annual musical, it's all kudos to the kids. "We set up the environment, but they work really hard." Student Josh Mehrtens' band Mild Orange is now touring overseas. "They make their own way."

There have been plenty of laughs and a few frustrations raising her starlets. During 'Grease', a performer's leg slid through a hole in the stage, forgotten clothes pegs meant music blew away during outdoor performances, and one jazz band member missed van check-in, travelling to Blenheim in his pyjamas.

While competing in Auckland, her charges met her at the Devonport ferry dressed as pirates after a spot of shopping. Passengers were in hysterics watching the encounter as Alison ordered a defiant Matt Doyle to hand over his plastic sword, only to find he was also wearing very large fake boobs. After ordering, 'Take those out', she was left having to carry them conspicuously on the ferry ride.